The Skincare Case That Nearly Beat Me | Julia O'Gorman
---
Julia O'Gorman is highly respected beauty therapist in New Zealand with over 30 years experience. Janesce botanical skincare and Bestow skin nutrition products are an essential part of her holistic approach to transforming skin. She says that complementing topical skincare with internal support makes a significant difference to the results she can get for clients.
Julia shares her holistic skincare wisdom with us in this inspiring story.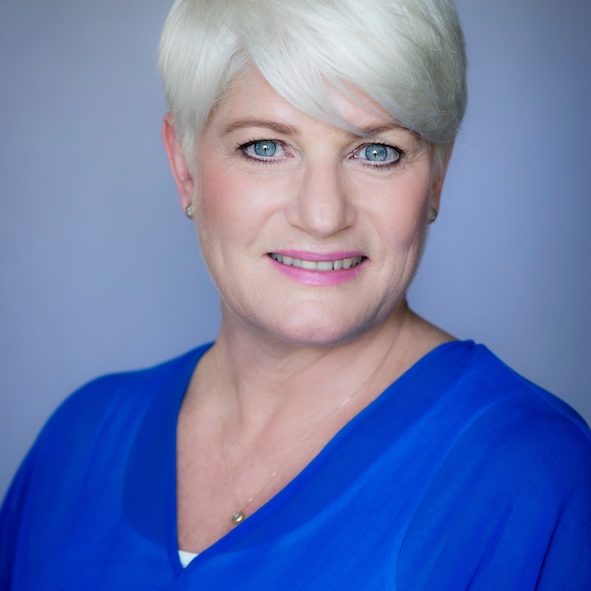 Meeting Karina 
Karina came to see me to remedy severe acne which flared up after coming off the contraceptive pill. Karina was under extreme stress and her emotional state was fragile: she didn't go out on weekends and was embarrassed to be seen by her patients in her work as a community nurse. Karina also has PCOS and a pituitary tumour which can wreak havoc on her hormones.
Karina was an enthusiastic client. She lapped up everything I told her and let me coach her around food and lifestyle changes. Her skin got worse before it got better, which was a challenge for both of us! We both dug deep and persevered and within six months we saw massive improvements. Karina got married eight months after we began working together and was a totally different woman – a confident bride with clear, glowing skin.
Here's a summary of the challenging but transformative journey Karina and I went on to get her to that point!
The Initial Consultation
When I first saw Karina, her skin was dehydrated, highly sensitised, red and inflamed with pustules, blackheads and milia. Karina's skin was affecting her emotional wellbeing and her confidence and because of this she was ready to make lifestyle and diet changes. She was so excited to start this journey, giving me a big hug before leaving our first consultation. I also felt excited about treating her skin holistically with my beauty tool-kit full of Janesce botanical skincare and Bestow skin nutrition products.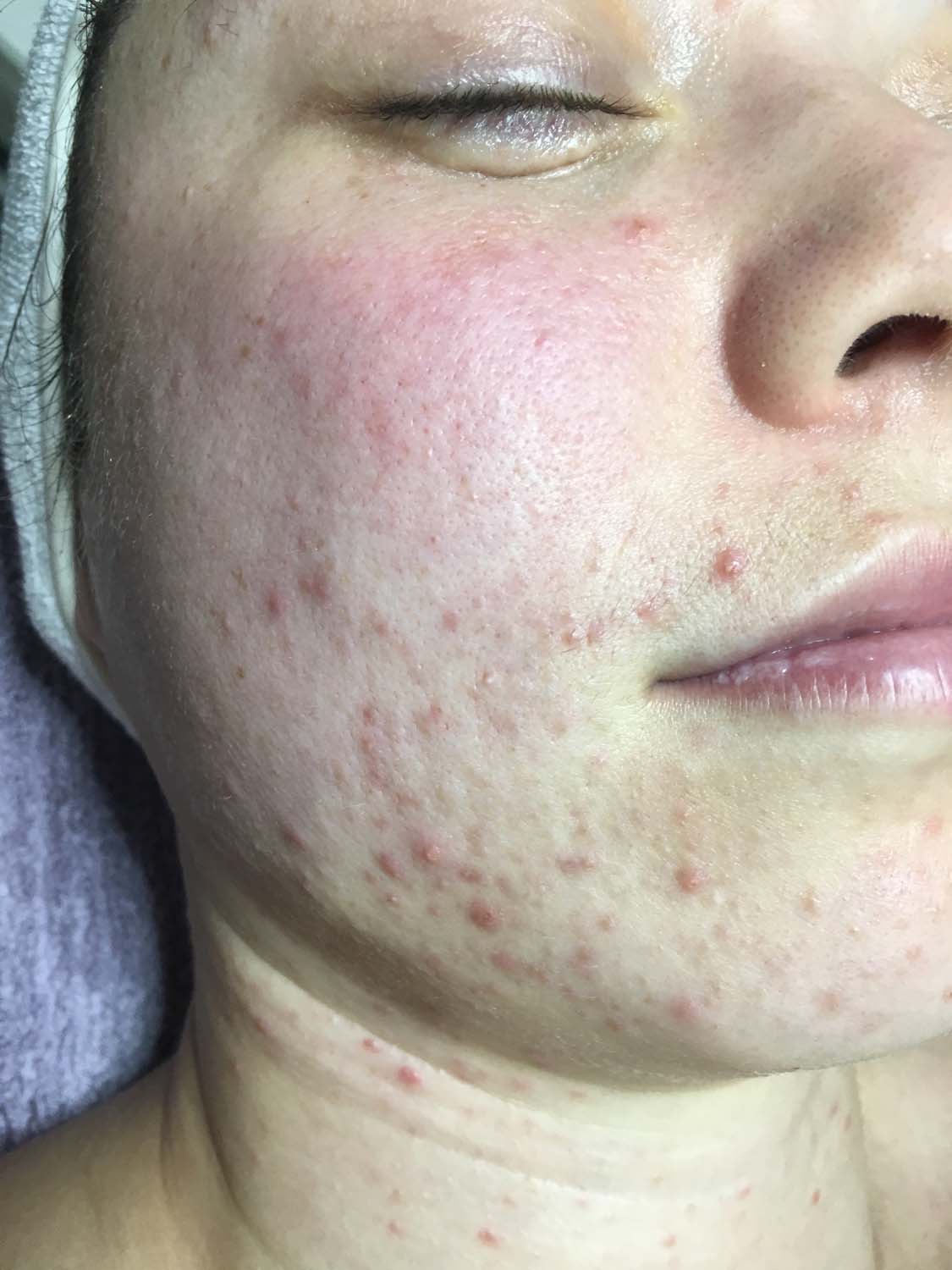 Our Botanical Topical Approach
I started Karina off with the Janesce Hypersensitive Range to get her skin hydrated and desensitised. I didn't want to overload her skin, so we started simply with Lavender Soaking Drops, Soothing Mist, the SK1 herbal concentrate and Lavender Aromatic Facial Oil. She was training for a triathlon, so I had her apply Janesce Avocado and Sesame Oil before swimming to protect her face from the harsh chlorine.
Her skin gradually became hydrated and less sensitive. I added a diluted version of the Janesce Gentle Clearing Wash after one month, and after three months I replaced the healing SK1 with the SK6 herbal concentrate to help with oily secretions. As we approached summer, I included the Janesce Suncare lotion.
A Skin Nutrition Strategy
Karina started on the Janesce 7 Days of Me Cleanse. This kickstarted major changes to her diet which had previously been rich in protein powders, mayonnaise, alcohol and orange juice – a combination of heating and congesting foods which were fuelling her acne.
The 7 Days of Me cleanse not only helped her to clean up her diet, but also educated her on the reasons behind those changes and the benefits of a healthy digestive system. The Janesce Seven Days of Me and the Bestow Within I Recipe books provided Karina with plenty of wholesome recipes that suited her new diet. Karina loved her new eating regime and lost 11 kgs in the first six months that we worked together.

Skin Nutrition Supplements + Bestow Beauty Boosters
I prescribed a once-a-day B vitamin supplement and a twice-daily zinc supplement as well as vitamin C to strengthen her capillaries. Following the 7 Days of Me Cleanse, Karina continued to use the Janesce Aperitif and Bestow Beauty Oil. When stubborn constipation wouldn't go away, we added the Bestow Be Cleansed Powder to support her gut and bowel health, which helped regulate her bowels after a month.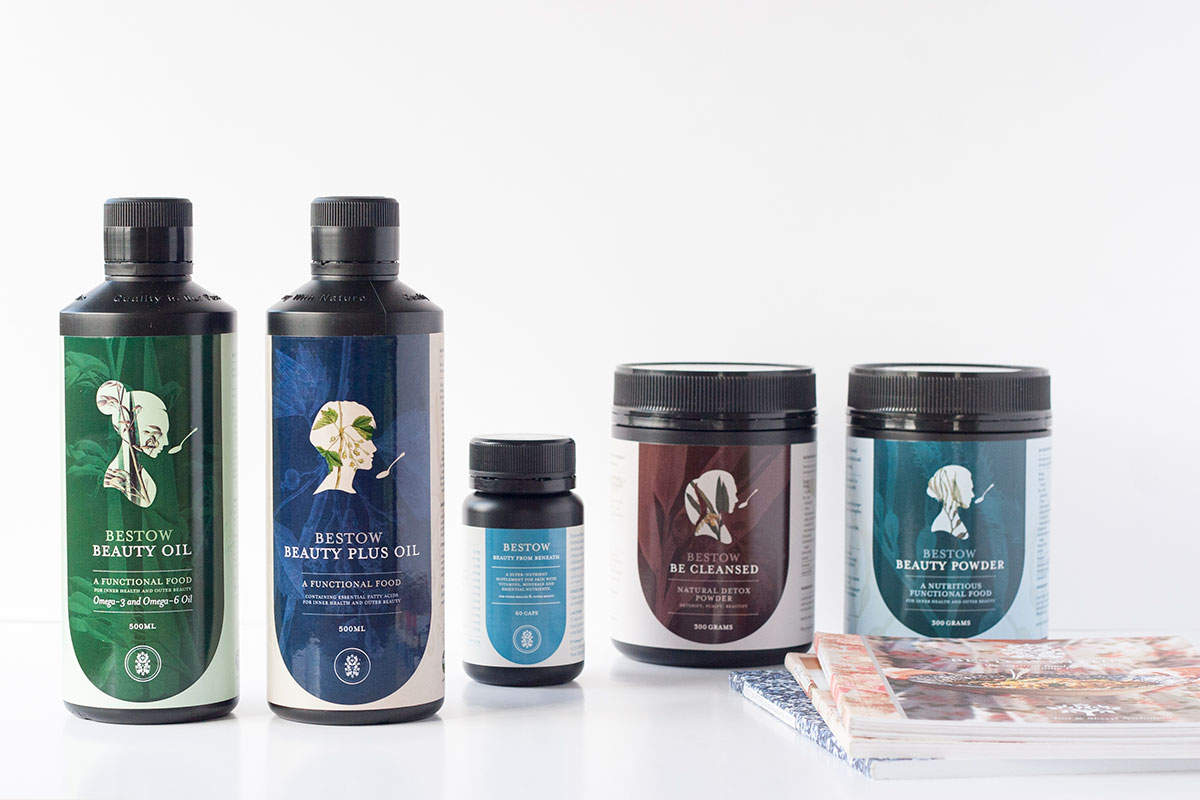 Things Got Worse Before They Got Better! 
Karina's skin got worse before it got better, which is always challenging for a client desperate for results. Early on, Karina would send me photos of her skin, panicking that it was worse. One day I saw Karina at the local supermarket and my stomach dropped when I saw her skin looking so bad. There were times when I worried that this skin condition would be the one that beat me but neither of us gave up. I reminded myself of all the other people I have journeyed with and that this process always works if you stick with it.
Encouragement, empathy and communication along the way was crucial. When Karina was struggling to face the world, I told her that she had a beautiful soul that shone through and that was what everyone saw, not her skin.
Clinic + Topical Challenges
Karina had monthly facials but I wasn't able to extract much as she bruised really easily. It added a frustrating challenge as I wanted to help rid her of congestion, but I had to persevere through gentler methods. The relaxing massage element of the facials was the most beneficial for Karina, giving her time to rest, relax and unwind. I also gave Karina acupressure facial massage, which was very effective.
I also realised that Karina was reacting to the Soothing Mist, so I took her off of this and suggested she increase her soaking ritual to three times a day and reapply her oil each time. Her skin healing progress got back on track again after this.
Diet Detective
Partway through the process, we reached a road block with Karina's skin improvements. Though she thought she was eating well, I dug deeper and found that Karina was eating chicken nibbles. Chicken nibbles are high in saturated fat, which fuelled her acne, so I suggest she switch to leaner chicken breast instead. The skin will always tell you when something is not right – roadblocks force you to put on your detective hat and figure out what is going on.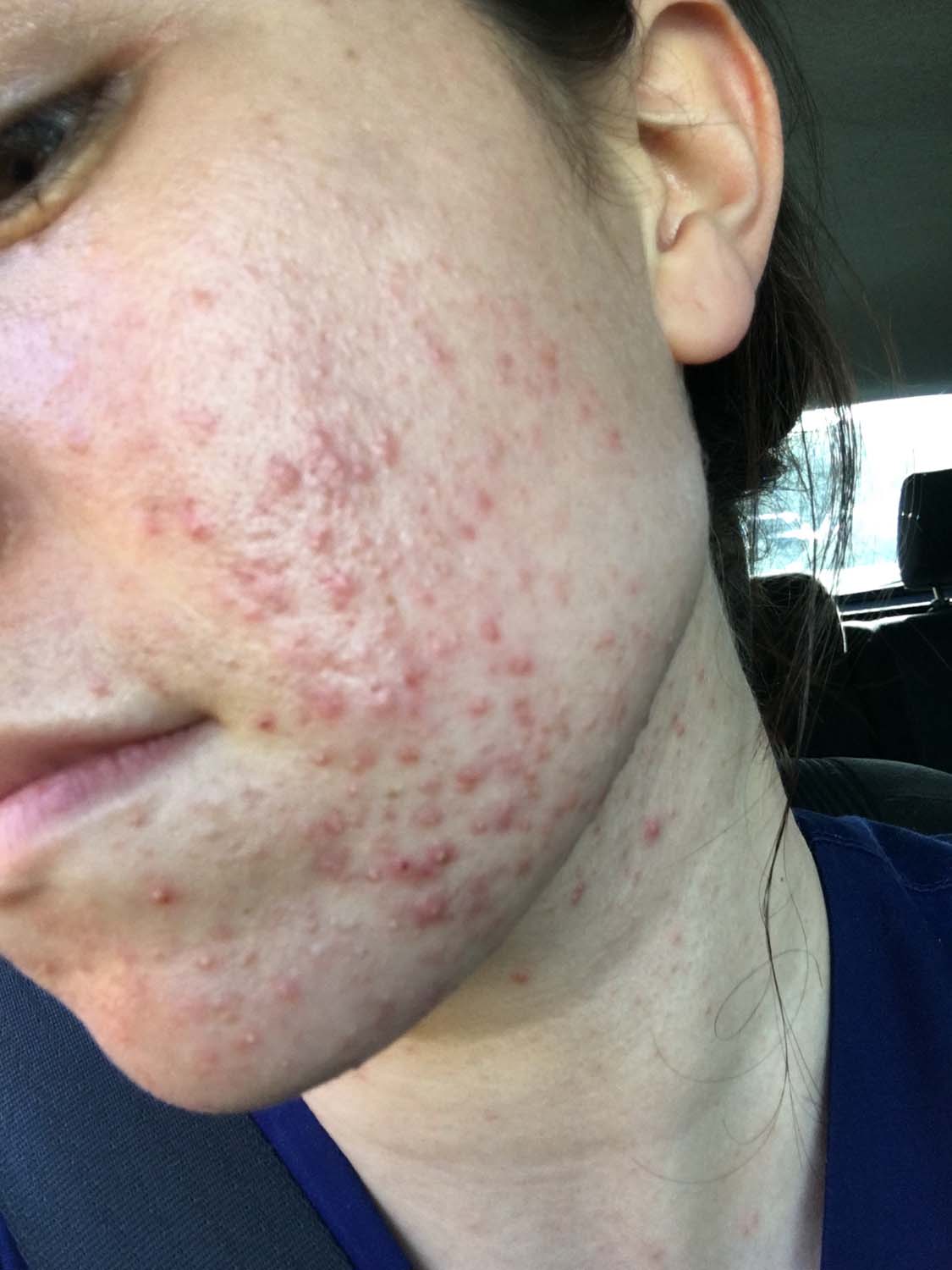 Calming the Mind | Calming the Skin
After few appointments, Karina confided in me how stressful her year had been: her grandfather died, she changed jobs, bought a house with her fiancé and was planning her wedding. This discussion helped me see that Karina was constantly in fight-or-flight mode and her nervous system needed nourishing.
I encouraged Karina to change her exercise regime to more calming options. I suggested she take a break from jogging and swim in the sea instead of the pool. I sent her home with resources for mindfulness and meditation. She took up yoga and added in the Bestow 'Time for Tea, Time for Me' ritual which created moments of pause in her day. All of this helped her switch into the parasympathetic nervous system, the body's rest and repair mode.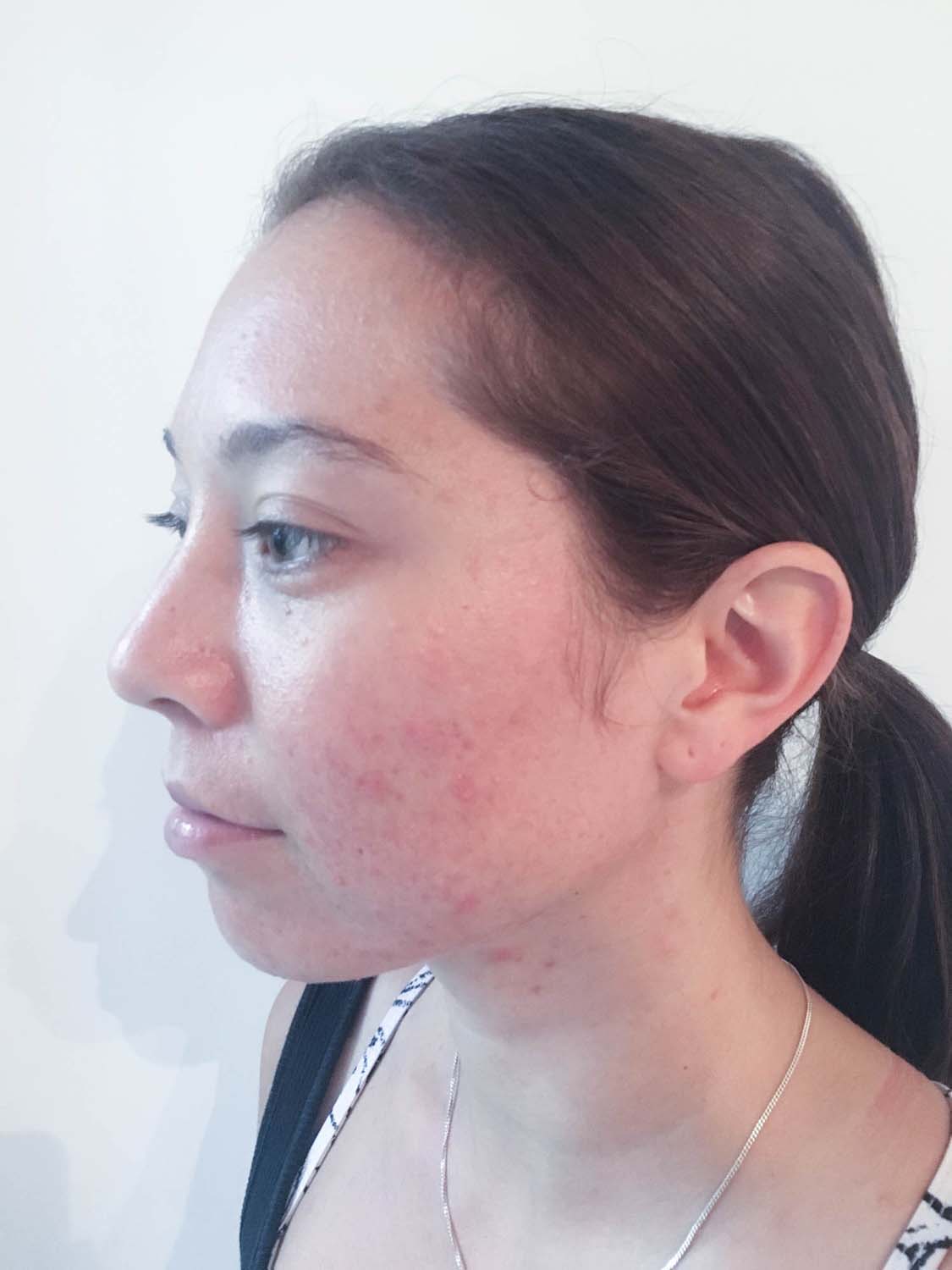 Karina's Skin Transformation
Today, Karina's skin is hydrated and smooth and breakouts are rare. She still has some scarring, which we are working on, but she is happy, confident and beautiful – inside and out. 
"A huge thank you to Julia who has not only helped me with my skin issues but my overall wellbeing. I was at a very low point in my life when I started seeing Julia, with low self-esteem. With Julia's guidance, using a combination of regular facial treatments and nutritional support, my skin has never looked better. From a complete diet change to the emotional roller-coaster acne put me through, Julia supported me at each and every step. I have learnt that acne is more than skin deep! I am forever grateful." – Karina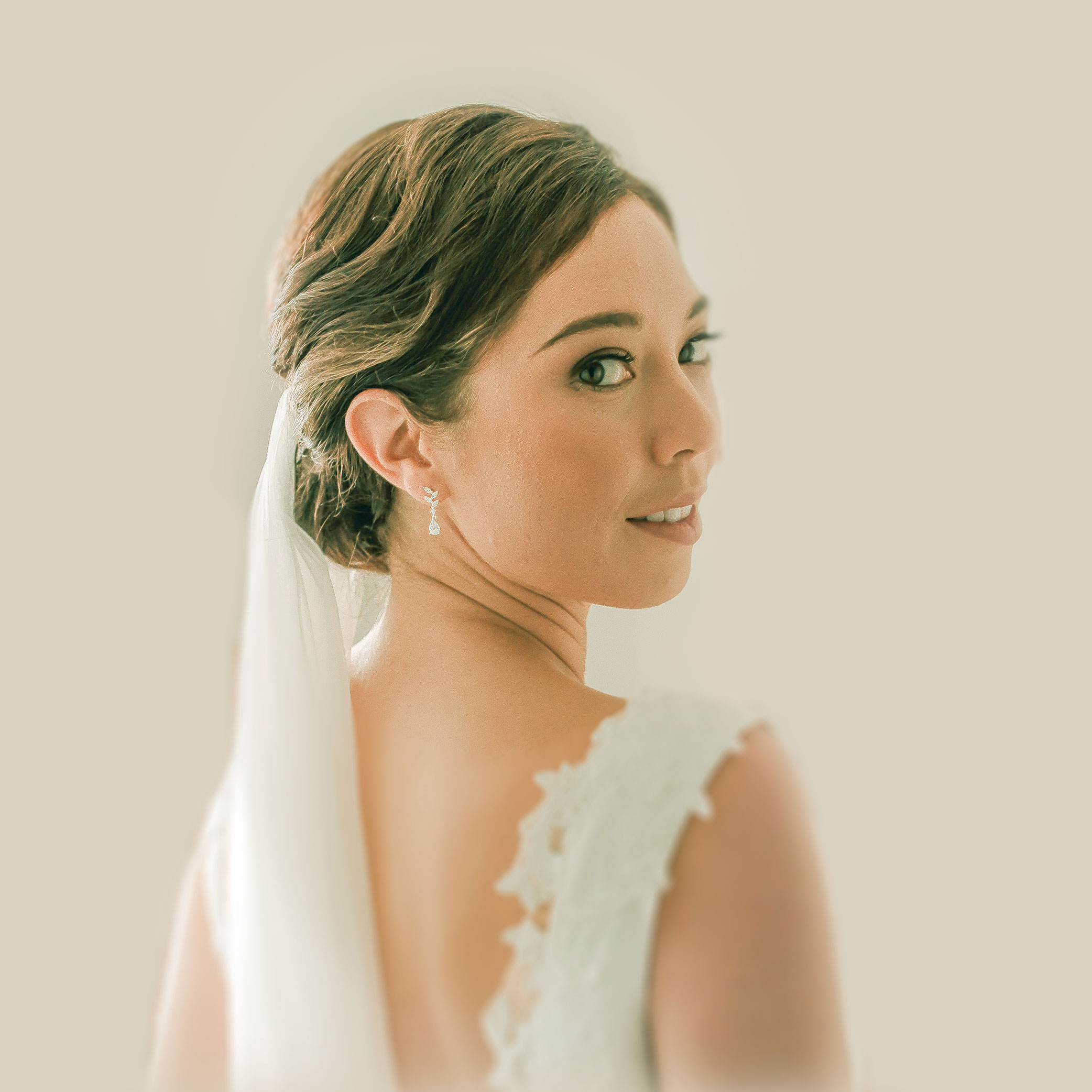 Lasting Lessons from a Challenging Case
This was a very difficult case but neither of us gave up. I had to keep telling myself to be patient, it can be a slow process but it works. This case also highlighted the enormous impact that a client's emotional state can have on the skin healing journey. I am currently training in hypnotherapy so that I can better support the emotional aspects of each client's journey.
This story also reinforced for me the therapist's role in boosting morale. I listened to Karina and kept encouraging her that it would get better – if she saw my doubts, she would have lost faith. Sometimes this job is hard work emotionally: take care of yourself and be patient, positive and confident in the process. It's all worth it in the end!  You only need to look at Karina on her wedding day to see the transformation.