How to Maintain Your Janesce Glow When Travelling | Top Tips!
---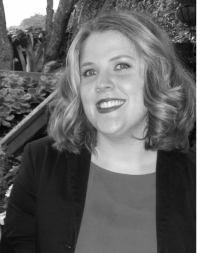 Annamarie Jenson is a passionate Janesce and Bestow holistic skincare therapist in Auckland who practices what she preaches – even when she's travelling the world! Just because you head off on an adventure doesn't mean your skin-health routine has to go out the window. Read on for Annamarie's road-tested wisdom for maintaining beautiful skin health while travelling.

BY ANNAMARIE JENSEN
Recently I went on a three-month adventure around Europe with my husband and 4-year old son.  We travelled through 13 countries with only two checked bags (max 20 kgs each) and three day-packs.  As you can imagine, this posed a challenge to my Janesce and Bestow skincare routine.  Not just because we were travelling light but because the time difference and different cuisines would throw a spanner into my normal rhythms.
Having struggled with cystic acne in my 20's and 30's I am now willing to do anything to maintain clear skin and a little international travel wasn't going to get in the way of that.
"Having struggled with cystic acne in my 20's and 30's I am now willing to do anything to maintain clear skin. A little international travel wasn't going to get in the way of that." 
WHAT I LEARNT ALONG THE WAY
BYO Products
It's important to bring what you need with you. Translating beauty products into English in a country like the Czech Republic will be a challenge!  I can assure you that if you bring Janesce Travel products with you, and use the correct amount (it can be hard to adjust from your full-size bottles and at first you'll probably use too much) then you'll be set for three months. These can even be carried onto the plane with you because they're under 100mls. My Janesce Minis had a tiny amount left in our last few days but just managed to get me home.
Here's what I took with me for my topical skincare routine.
Lavender Soaking Drops (full size at 30mls)
Janesce Rose Cleanser (travel size)
2 x Janesce Rose Mists (travel size) – one for the plane, one for my toilet bag.
Janesce Nourishing Skin Reviver (travel size)
Janesce Suncare Lotion (travel size)
Bestow Nourishing Facial (full size at 30mls) – this is my night moisturiser.
COOLA tinted moisturiser for make-up and added sun protection.
I also packed a Janesce Soaking Cloth in a ziploc bag.  I washed it every couple of days because they're so easy to dry. Having the ziploc bag meant I could pack it wet if we had early starts with no time to dry the cloth.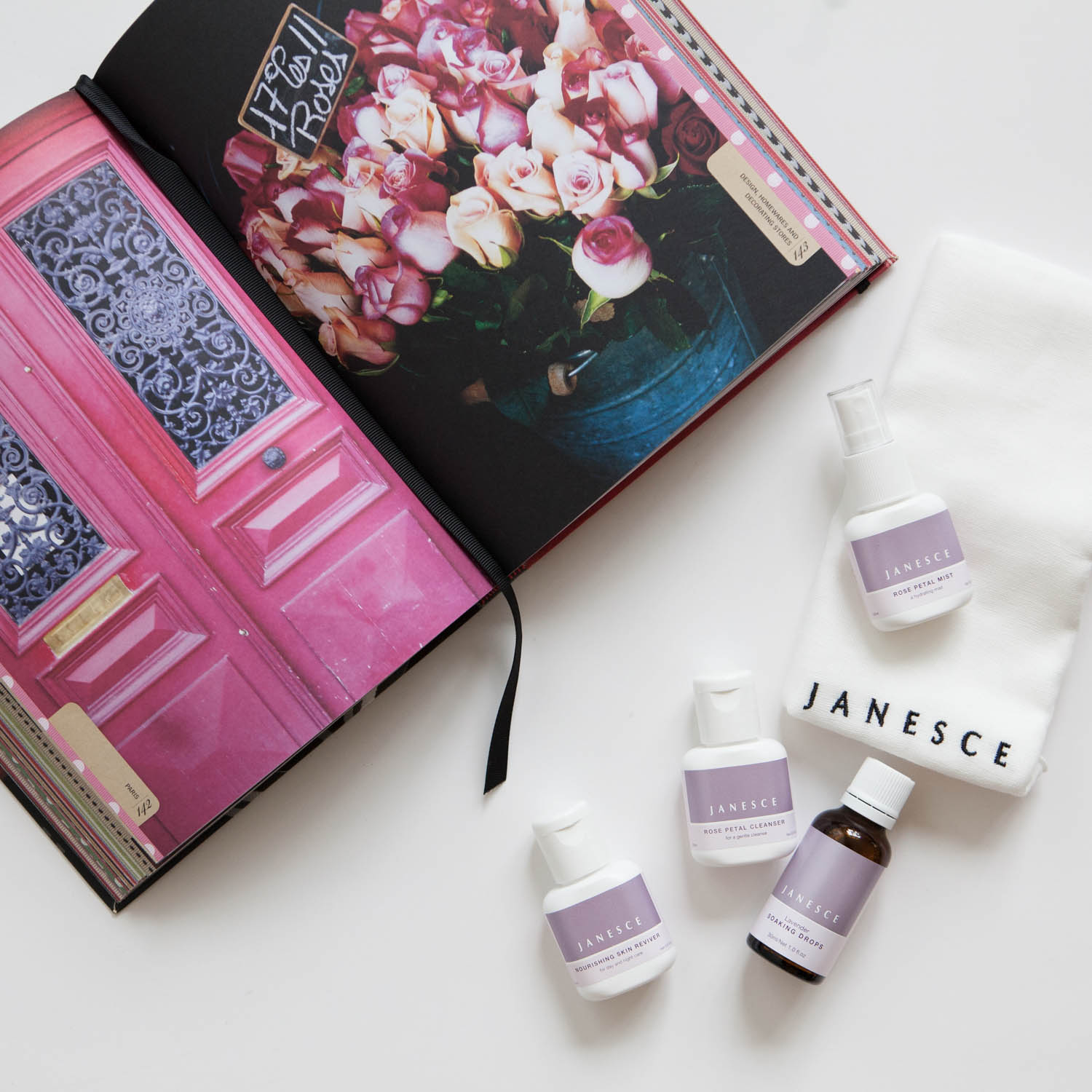 Skin Nutrition
Obviously, it's trickier to incorporate your Bestow skin nutrition routine into your travel eating habits. I brought along 12 Bestow Beauty Powder sachets, a couple of Bestow Be Cleansed sachets and enough Bestow Beauty From Beneath tablets decanted into a small ziploc bag to last the entire trip. I also found a Probiotic (Go Health) that didn't need to be refrigerated and took that with me too. The only other addition to my daily routine was Vitamin C, but this is easy to re-stock when you're away.
The Beauty From Beneath tablets, Vitamin C supplement and probiotic were taken every day. I took a small pill container with me and if we were staying in a hotel, I loaded it with my supplements and took it to breakfast with me.
It was easier when we were staying in apartments with kitchens as I was able to make my own breakfast and depending on the country, I could make a version of Overnight Oats and put my Bestow Beauty Powder on that.  I found that if I stayed in one place for a couple of days I could keep the opened pack in the fridge and distribute it over a few days. The reason I only took just one pack for every week was for space saving, but I also realised that it could be tricky to commit to adding it into my diet more once a week.  If I couldn't do oats sometimes I was able to have a smoothie to put it into, otherwise I would put it into yoghurt.
The only product from my usual Bestow routine that I couldn't travel with was my Bestow Beauty Oil, which needs to be refrigerated. It was just too tricky so I had to try to ensure my diet included foods high in Omega 3 & 6 – not just fish but sunflower seeds, brazil nuts, leafy greens etc.
There were times when due to the temperature changes (like the cold in Iceland) my skin was incredibly dry under my eyes and I knew if I was taking my Bestow Beauty Oil my skin would be brighter & more moisturised.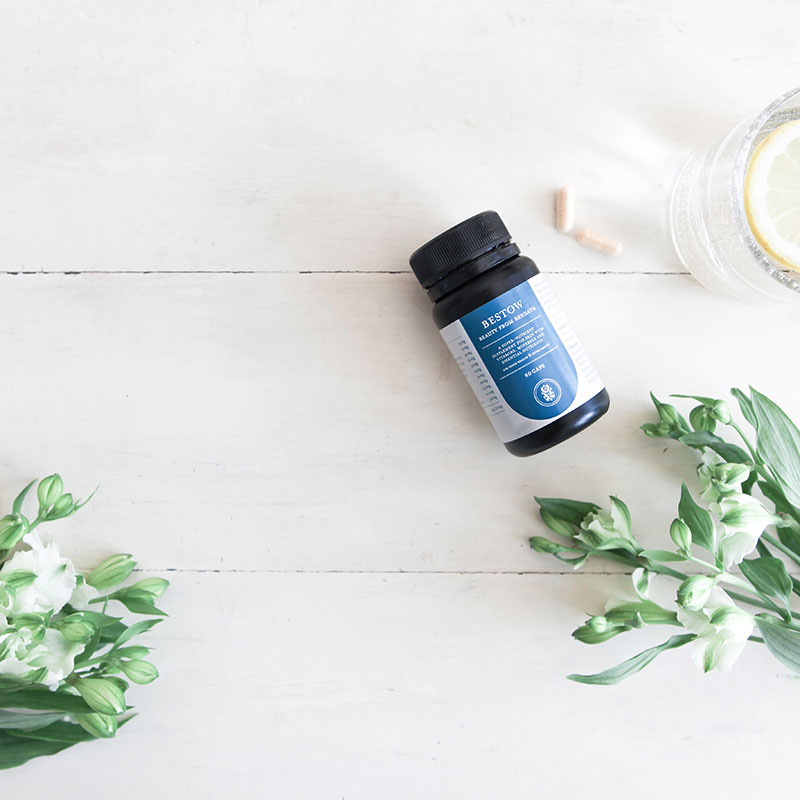 Trouble-Shooting | Use What You Have
When my skin was really dry and I had no access to a nourishing mask I got myself the purest honey I could find and slathered it on like a face mask then lay down with cucumber slices on my eyes like a bad 80's film and just let nature do its thing.
I did this every couple of days until my skin felt less dry then repeated the same trick when my skin changed later in the trip due to a lot of air travel drying my skin out.  It wasn't as effective as a Janesce facial but it helped a lot.  When I was in Italy I also dabbed pure olive oil under my eyes at night.
Topically, I used an organic, botanical skincare range which heals, repairs and strengthens the skin barrier. This was used in conjunction with a twice daily skin-soaking ritual to rehydrate the skin and loosen congestion.
Have a Full Facial When You Get Home
Of course, once I was back in New Zealand, the first thing I did was unpack my Janesce arsenal and give my skin the facial it deserved.  It only took a couple of days for things to adjust back to normal.
Overall, my skin looked healthy and hydrated while I was away. I think the biggest secret to great skin is soaking morning and night and providing your body with the right nutrients – zinc, the entire B vitamin complex, vitamin A, vitamin C, Omega 3 & 6, a lot of water and the right amount of sun for that good old vitamin D.
I was able to give my body most if not all of these every day and if it wasn't for some environmental changes like climate (and obviously long-haul air travel) I would have had perfect skin. Janesce and Bestow for the win!
I hope you find these tips helpful in caring for your skin on your next travel adventure.