Holistic Skin Treatment Improves Client's Heart Condition | Jeanine Chell Case Study
---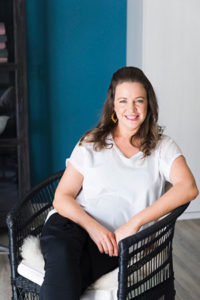 Jeanine Chell has been mentoring clients through skin transformations for 15 years and has seen some amazing turn-arounds in that time. But when her holistic approach to treating a client's chin rash led to a dramatic improvement in his heart condition, her faith in the Slow Beauty philosophy at the heart of Janesce and Bestow became even stronger.
Here is her first-hand account of this remarkable skin-coaching journey.
THIS DAY WAS DIFFERENT
Jeremy* had been a craniosacral therapy client of mine for two-and-a-half years when he asked me to have a look at his skin. His skin was quite dry, sun damaged and fragile in places with impaired barrier function, but since he had come to me for pain management, we had never spoken about skincare.
This day was different: Jeremy asked for advice about a blistery rash presenting on his chin. He said it had developed over the last six weeks and was progressively getting worse. It felt sore and stingy and despite being a level headed and calm man, Jeremy admitted that the rash made feel self-conscious and uncomfortable.
THE DIAGNOSIS
Jeremy's chin rash was a clear case of peri-oral dermatitis which often presents as raised, red patches and irritation around the nose and chin. This skin condition can often (but not always) occur after periods or stress or ill health. Jeremy has a heart condition and arrhythmia (irregular heart beat). He'd had surgery to address this nine months earlier but it had not been successful. As a result, he went on stronger medication and it was not long after this that the rash first appeared. This may have been the trigger that caused this skin problem.
SETTING THE SCENE
I interviewed Jeremy, gathering new information to consider alongside what I already knew about his habits and lifestyle. Jeremy wears a sleep apnea mask at night, which he thought might be irritating his skin. He ate spicy food and had one coffee a day and three wines a week. He had hot spas regularly at home.
Jeremy tended to eat larger meals and treats at the end of the day and ate very little in the mornings. He had one bowel movement every four to five days, so I knew his digestion wasn't up to scratch. He also took quite a few supplements and smoothies in place of proper meals.
Jeremy's liver function was also affected by all the medication he was on so he was having monthly blood tests to monitor his liver health.
MY HOLISTIC SKINCARE STRATEGY
I wanted to keep things simple in terms of topical treatment so as not to cause any further irritation. I was mindful that his skin barrier was weak and that because the Janesce Skincare botanical range is quite powerful I would have to start very gently.
The Janesce Hypersensitive Plus range was the best choice to gently heal and repair his skin.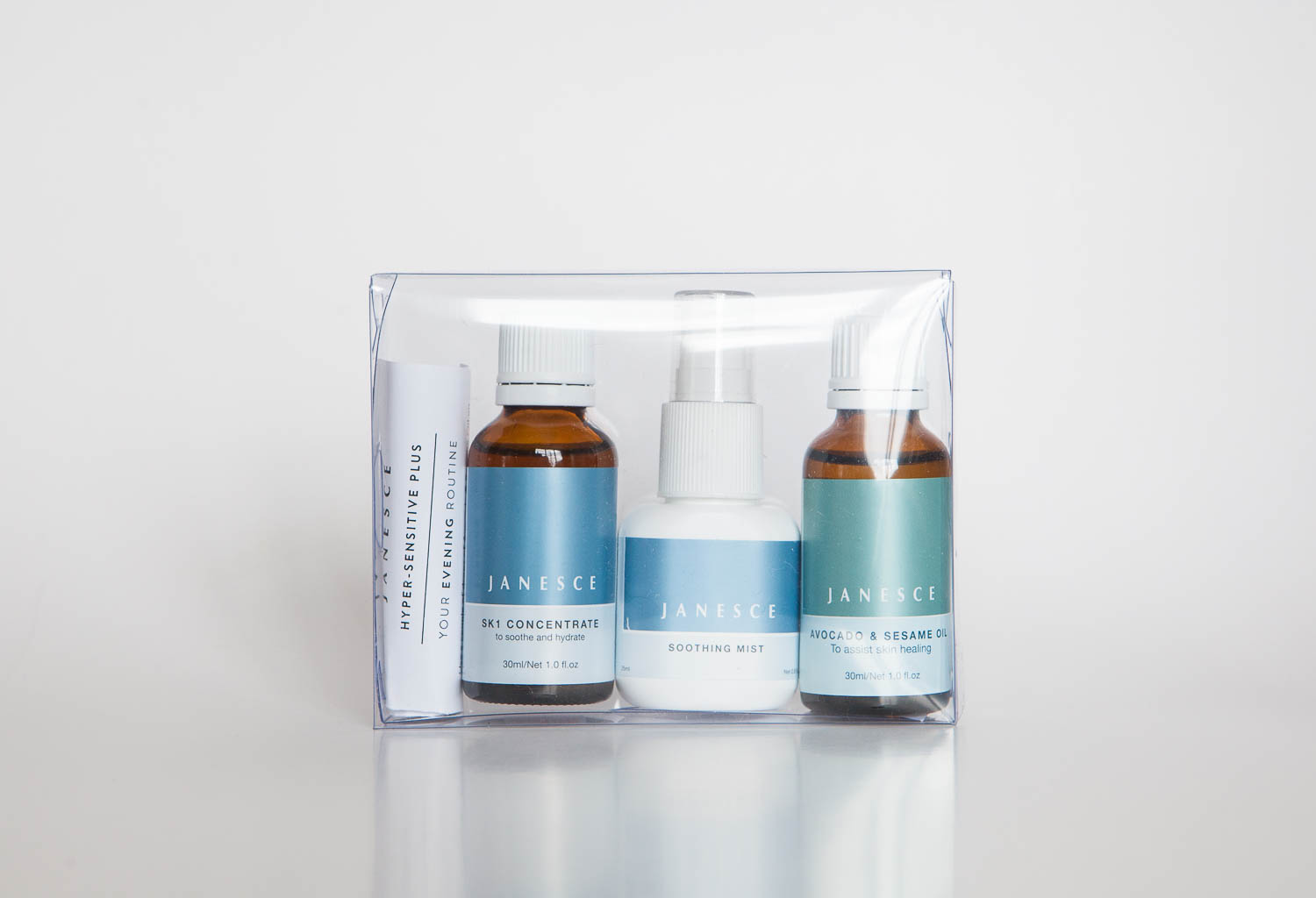 DIETARY AND LIFESTYLE CHANGES
My initial focus was on supporting the skin internally through diet, supplementation and lifestyle changes, which would take an absolute minimum of three to six months to take effect.
Jeremy had some changes to make, including reducing spicy foods, coffee and alcohol. These are all heating foods which increase the capillary blood flow to the skin, exacerbating skin redness and inflammation.
He changed his eating patterns by starting the day off with a bigger breakfast. He added in mid-morning and afternoon snacks in conjunction with a smaller dinner. The end goal was for him to stop taking hot spas, cut right back on heating and congesting foods and drinks, and ultimately eliminate coffee and alcohol altogether.
We reviewed his nutritional intake and found that some essential nutrients were missing. I suggested he start taking the following Janesce skin- specific supplements: B complex, Zinc Repair, and Aperitif (a liver tonic) as well as Bestow Beauty Plus Oil for skin-friendly Essential Fatty Acids. EFA's are vital for moisturizing the skin from within and for producing quality sebum which acts a healing and protective film on the surface of the skin.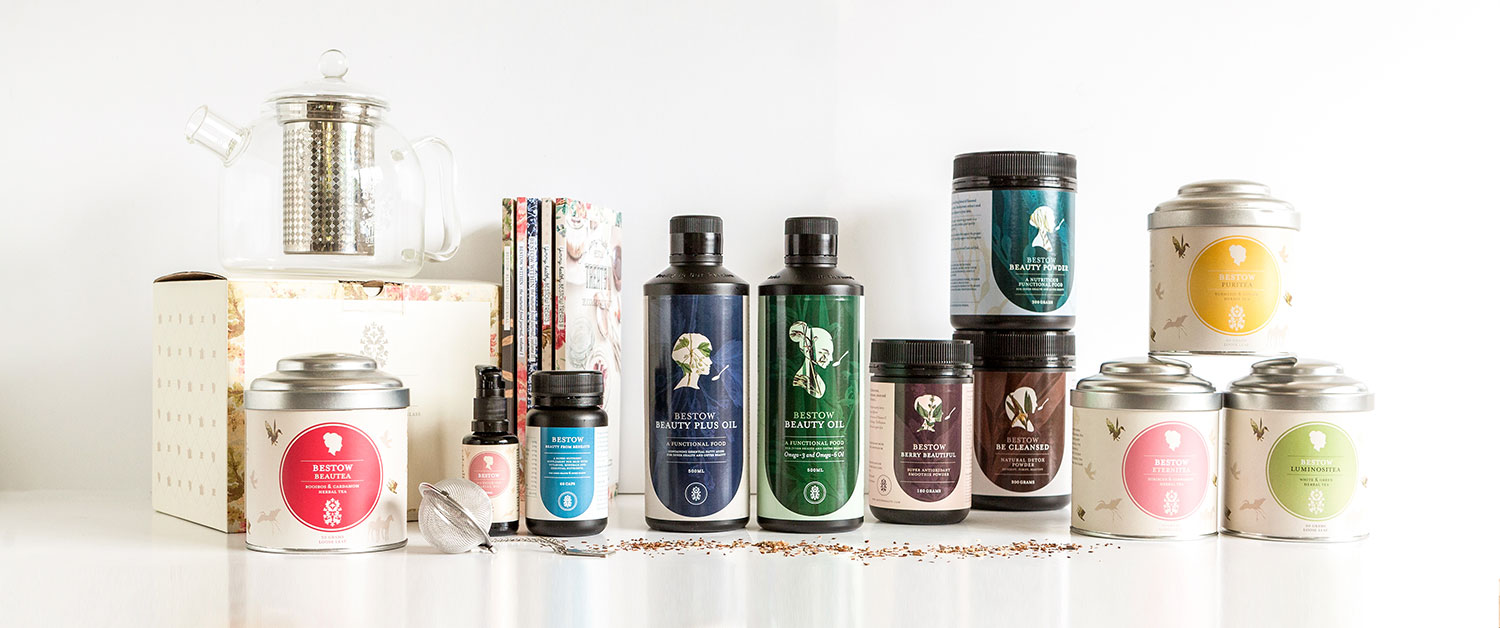 TIME FOR TOPICALS
I had Jeremy begin soaking his skin using warm water and a soaking cloth morning and night, followed by Janesce Avocado Sesame oil, cocktailed with Janesce Soothing Mist. A month later, I introduced Janesce Lavender Soaking Drops into his skin soaking routine.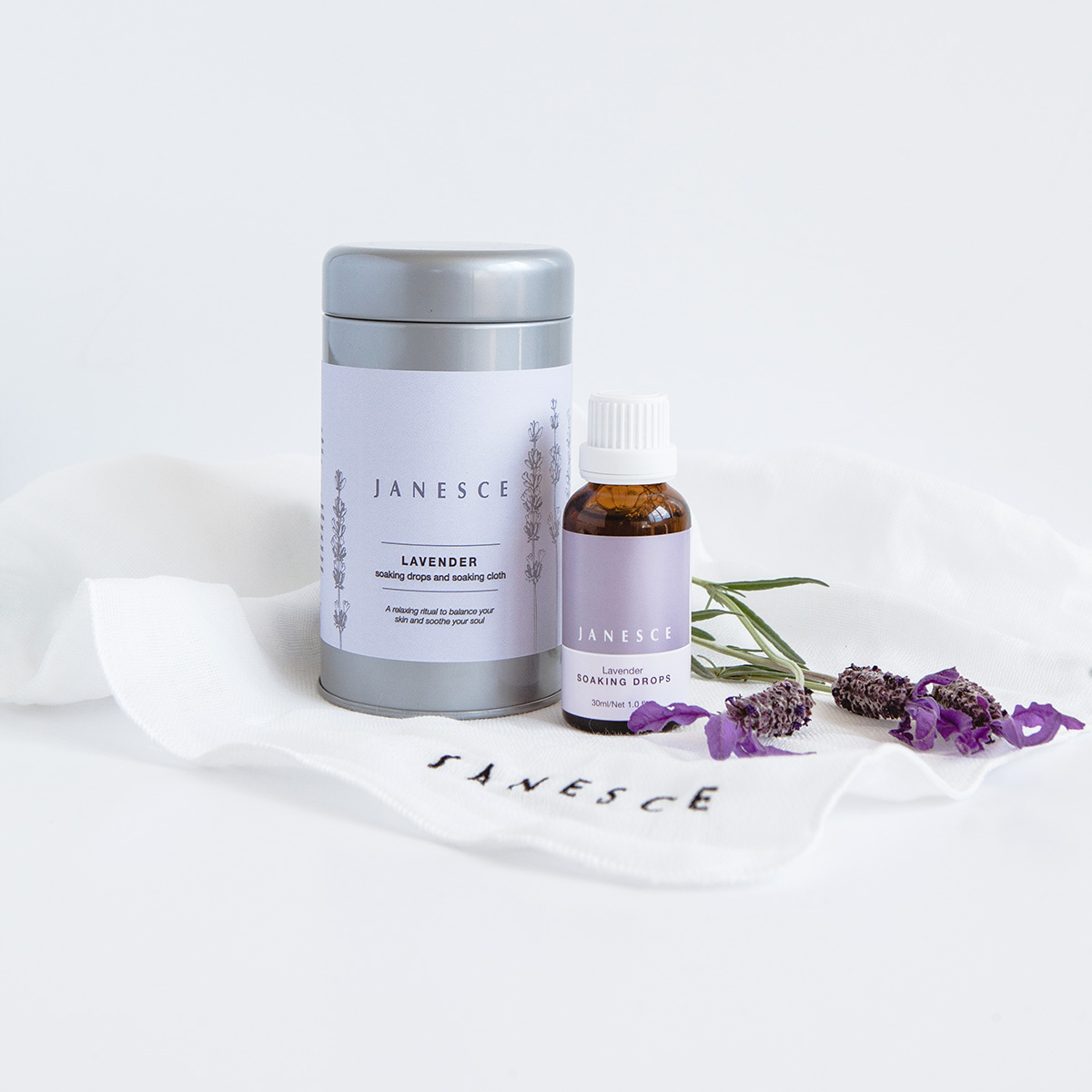 There were times during the first two months where the Janesce Soothing Mist was too strong and made his skin redder after use, so I got him to stop using it for a couple weeks then slowly introduce one spray back into his morning and evening routine.
CHALLENGES AND VICTORIES ALONG THE WAY
When Jeremy came back for his second visit three weeks later his skin looked better but the rash was still prevalent. At his third visit, his skin was still going through the healing process, but he was showing huge improvements in his general health and well-being. His liver function returned to normal, which was quite a phenomenal by-product of this skin transformation strategy. His energy, digestion had improved and his heart was back in sinus rhythm (normal heart pattern) for the first time for over 18 months. Wow!
In this case, taking a holistic approach to diet, supplementation and lifestyle were able to accomplish what surgery and medication had not.
The chin rash took time to heal – in fact it started to look worse before it got better, which is often the case with skin condition flare ups. My confidence wavered so I called Janesce and Bestow experts, Janine Tait and Julia O'Gorman, who reassured me that peri-oral dermatitis is stubborn, taking at least three months to heal. After his fourth visit, Jeremy and I were both thrilled to see a big improvement and at visit five, his chin was almost completely clear.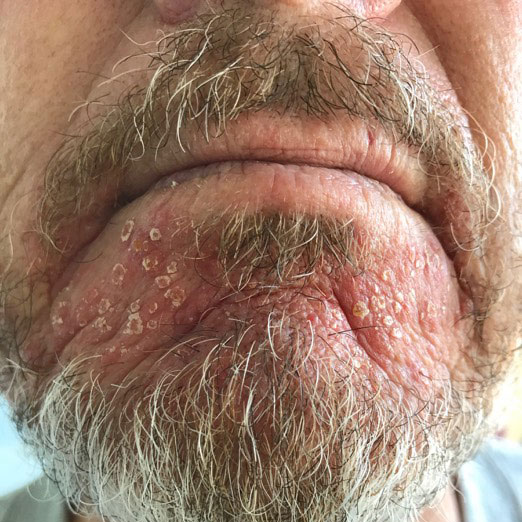 SKIN COACHING TIPS
Jeremy and I have monthly consultations and I make sure to stay in regular contact with him in between appointments. I give him advice and explanations and always ask him plenty of questions. Jeremy was committed right from the get-go and was a great sport during this coaching process. His one weakness is sometimes forgetting to take the Janesce Aperitif, so I have helped him come up with tips so he'll remember. The impact of this daily liver-cleansing tonic for clearing skin cannot be underestimated.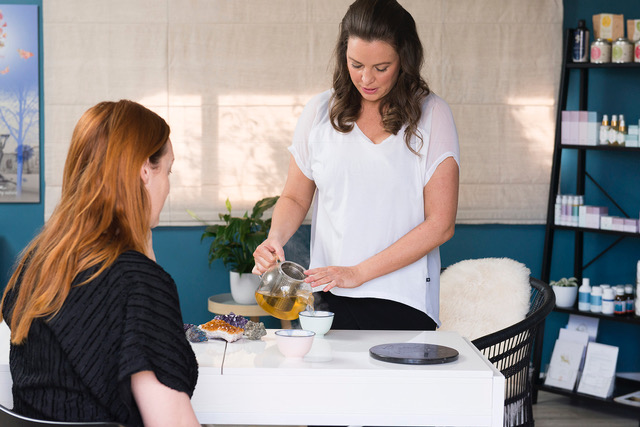 THE END RESULT
Jeremy's chin is completely clear! His overall complexion is much more hydrated and his skin tone look more even. He feels much healthier and more confident. His digestion has improved dramatically, his liver is at normal function and his heart is still in sinus rhythm.
KEYS TO JEREMY'S SUCCESS
Jeremy's commitment and discipline to making the necessary changes were crucial. When my confidence wavered, having reassurance from Janine and Julia kept me going. Recognising that the products like Janesce Soothing Mist can be too strong on a weakened skin was important to his long-term success. Probably the biggest lesson to take away from this case study is that working internally is key – it is well over half the battle.
Today, almost one year later, Jeremy's skin is clear and he continues to nourish his skin from within with Bestow Beauty from Beneath (a skin- specific vitamin supplement) and Bestow Beauty Plus Oil. He continues to soak with Janesce Lavender Drops, uses the Janesce Soothing Mist and Janesce Avocado Sesame Oil. He takes the Janesce Aperitif daily – when he remembers (we're still working on this one)!
*Client name has been changed.